Forthcoming Gigs No gigs in the UK at the moment, I'm living and working in Australia. Mainly recording but playing in a band occasionally.

---

Previous Gigs These date back to 2003 and before, There are a couple of reviews and other historical bits, I know the page needs updating..... I'll get round to it!

WOLFIE WITCHER and his BREW
Saturday 24th May 8pm till 11pm
Wolfie, Denny, Mel Wright, Ray Carless and Jimmy Roach
The Crown
Richmond Road
Twickenham

WOLFIE WITCHER AND HIS BREW
Saturday 30th November 6pm till 10pm
THE UNDERWORLD
Camden
London NW1

BILL HURLEY & The ENFORCERS
Saturday 21st September 9pm till 11pm
THE HEATHCOTE ARMS
Grove Green Road
Leytonstone
London E11

WOLFIE WITCHER and his BREW
Saturday 28th September 8pm till 11pm
Wolfie, Denny, Sam Kelly, Ray Carless and Jimmy Roach
The Crown
Richmond Road
Twickenham

BILL HURLEY & The ENFORCERS
Saturday 20th July
Barnet FC
Barnet

BILL HURLEY & The ENFORCERS
Saturday 13th July 9pm till 11pm
The White Horse
High Street South
East Ham
London E6

AT THE FAMOUS 100 CLUB OXFORD STREET
Tuesday 7th May 2002
WOLFIE WITCHER and his BREW
plus Sarah Jane Morris & Alastair Gavin
and Boothby Graffoe and Antonio Forcione
R n B n Jazz from 8 pm until the bar closes
All proceeds to Sunset Music For The Blind
Admission £7 (£6 members)

WOLFIE WITCHER and his BREW
Saturday 26th January 8pm till 11pm
An intimate gathering at
The Crown
Richmond Road
Twickenham

2001
WOLFIE WITCHER AND HIS BREW
Saturday 24th November 6pm till 10pm
A celebration of the life of George Carless
THE UNDERWORLD
Camden
London NW1
George Carless: A Celebration
Wolfie Witcher and his Brew. The Underworld Saturday 24th November 2001

It may be a little unusual for a review to be written by one of the artistes who took part, but from where I was standing I was in the forefront of the band who became the audience, as the warmth and affection of those who knew and loved George Carless spread to those of us who were privileged to perform on this sad yet jubilant occasion.

This was the event that George had always intended to be a part of, and up until a couple of weeks ago looked likely to be his swansong. Alas the cancer that was so cruel had taken over, and he died on November 20th 2001.

Back in March George revealed for the first time that he was feeling unwell. The band were playing a gig, and we were already onstage when he arrived. Nothing unusual in this, because he was often late, and would creep on to take up his position on my left, hoping that no one would notice! On this occasion, he came up to my shoulder, saxophone at his lips, and whispered out of the corner of his mouth; "Man, I've been feeling bad….. can't eat…. don't know what the matter is." Had I not been playing my bass guitar at that moment I would have put my arm round him, but like troupers we got on with the gig, and personal problems were put to one side.

"The late George Carless" became a term of endearment for George. He found it amusing. as did the loyal fans of the band who came to the gigs.
The first time I met George was on stage at the Carnarvon Castle in Camden Town. He was late for the gig, so there was no time for long introductions, no rehearsals, just "Hi man!" and then on with the show. Our first conversation was an exchange of music. He on the sax, me on the bass.

During George's first spell in hospital I visited him quite often. I was inspired to write a piece of music at this time, reflecting in musical terms the dialogue between the two of us. It was how we were, me and George. Nothing complicated or world shattering - just buddies, playing in a band, sharing car journeys and strange hotels.

At the Underworld, we realised with each song how much George was part of us. We noisily filled the gaps where he would have played, we tried to fill the stage where he stood. We had with us George's son and prodigy Ray Carless, who played an inspired gig.

The band's leader played his toughest gig ever. He gave in to the tears right at the end of three hours of rhythm and blues and George. It was an inspiration for Wolfie to have the crowd take part in a minute's noise for George. He said afterwards that George would not have wanted the silence. The four hundred plus audience raised the roof. Wolfie Witcher and his Brew gave to them what they had come to hear.
A celebration of George Carless.

---
Keep scrolling for past gigs, photos and links


BEDLAM
Plans are on hold for now. More news later.

BILL HURLEY & The ENFORCERS
Saturday 10th November 10pm till 1am
O'Connors
Palmers Green
London

BILL HURLEY & The ENFORCERS
Saturday 20th October 10pm till 1am
O'Connors
Palmers Green
London

BILL HURLEY & The ENFORCERS
Saturday 22nd September 10pm till 1am
O'Connors
Palmers Green
London

WOLFIE WITCHER'S BLUES BAND
Saturday 28th July 8pm till 11pm
An intimate gathering of musicians at
The Crown
Richmond Road
Twickenham


I've been hired by Bill Hurley (The Inmates) to dep in his band!
BILL HURLEY & The ENFORCERS
Saturday 21st July 10pm till 1am
O'Connors
Palmers Green
London

Thursday 19th July 8pm
WOLFIE WITCHER, current and former members of THE BREW, The Ray Carless Jamaican Jazz Quintet with special guest Paulina Oduro (high life vocalist) and other guests
THE 100 CLUB
100 Oxford Street
London W1
This was a special gig for George Carless who has been unwell: The gig was a great success bringing together musicians from George's past career who took part and played to a very friendly and appreciative audience. Among the guests were Brew members previous and current:Richard Spaven - Sam Kelly - Jimmy Roache - Pete Emery - Phil Drury - Wolfie Witcher - Kit Packham - Simeon Jones - George Carless (try keeping hime away!)- Ray Carless - Denny Ball - Diz Watson also joined in the fray playing some superb boogie woogie piano - as did John Chalice and drummer Joe who worked with George some way back in his murkey past!
by the way Sarah please email me!

A review of this benefit by Mel Wright
Wolfie Witcher's Brew at 100 Club,London, 19th July. George Carless Benefit Night Benefit gigs can be a mixed blessing; sometimes shambolic, often uncoordinated affairs with fidgety guest players on stand by waiting to do their bit. The George Carless night at the 100 Club was exceptional. To top it all, George was there. Recently discharged from hospital following diagnosis of cancer, the gig gave him the uplift that goes well beyond what the NHS can provide. George joined Wolfie Witcher's Brew in the mid eighties but he has also played with Ronnie Lane Band, Diz & the Doormen and Beck. He came to Britain from Jamaica in1957 hungry to play the London scene. George's endearing personality made him a dead cert for Wolfie's zany humorous nights on the road and the crowd loves him. The 100 Club was steamy, packed with enthusiastic followers. The Brew played its usual tight set with Wolfie at the helm on blues harp and singing the Camden party favourites like Caravan, and Mercy, Mercy in his own London grown –R&B style helped by George's sax partner Kit Packham, guitarist Jimmy Roche and bassist Denny Ball who provided the kick. Former band members slipped on and off all night including guitarist Pete Emery and pianist John Challis who played a great solo boogie woogie set. Also a seamless group of sharp drummers – resident band sticksman Richard Spaven, star guest -Sam Kelly and George's original sidekick from Jamaica gave their all. George's son Ray also depped for his dad, before featuring in his own Jamaican Jazz Quintet band, a wonderful mix of Jamaican High Life and jazz including singer Paulina Oduro. One of the evenings highlights was when George's former boss Diz Watson stepped up to rally the band around a strong New Orleans feel with some bluesy vocals and piano on 'Goodnight Irene' and 'You Never Can Tell' At Wolfie's request George was prised away from his family and supporters and up on stage, following his humble thanks to everybody, he received a standing ovation when he performed his inimitable 'rootsy' intro to Pills. A great night and a very spiritual atmosphere. All thanks to Wolfie, Jackie Witcher, 100 Club and others. It was a fine tribute to George but also to the spirit of an R&B network of players and clubbers - all full of fun. Take care George we're all with you! Mel Wright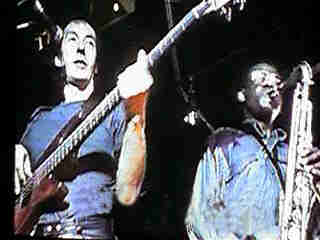 Denny Ball and George Carless (pic from FDS/Channel 4)

Saturday 14th July 8pm
BILL HURLEY & THE ENFORCERS
The Shaftesbury
Hornsey Road
London

Sunday Afternoon 8th July from 3pm
BILL HURLEY & THE ENFORCERS
Rhodes Avenue School
Muswell Hill
North London

BILL HURLEY & THE ENFORCERS
My first gig with this band as dep.
Saturday 23rd June 10pm till 1am
O'Connors
Palmers Green
London

May 2001 recording.


WOLFIE WITCHER & HIS BREW
April 28th
The Village of Wing
Buckinghamshire
We tried everything with these people Yawn!


BEDLAM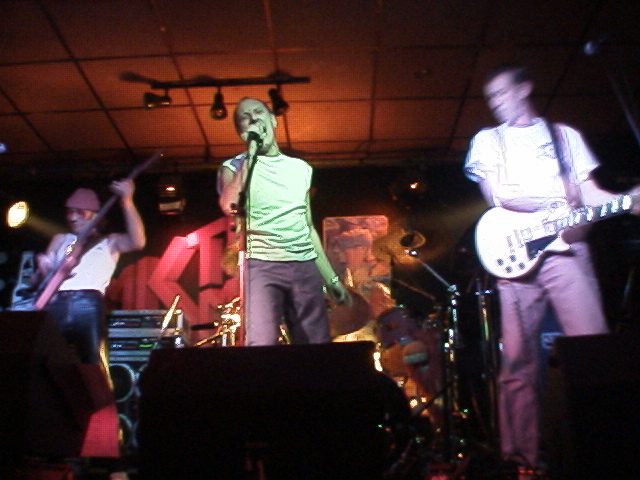 Denny Ball, Frank Aiello, Russell Gilbrook and Dave Ball at Mr Smith's in Bournemouth( thanks to Ian Brown for the pic)

BEDLAM This 'sampler' gig took place at Mr Smith's in Bournemouth back in November. Frank was in fine voice and Russell Gilbrook our brilliant new drummer played superbly! Dave Ball made his Les Paul sing and I blew some very old cobwebs away!


BEDLAM
THE UNDERWORLD
CAMDEN TOWN
LONDON
Sunday afternoon 21st January
We played to a small but vociferous audience and had a great gig! Thanks to all who attended!
Here is a review which was sent to me by Joe Geesin!
Went to the gig yesterday afternoon.
What can I say - Brilliant.

When I arrived I met Dave, who took me to meet Denny (we met once before) 
and Frank. All signed my original Bedlam album that Cozy had signed a few 
years back - a complete set now. Although signing next to Cozy's brought 
back some feelings.
They all seemed amazed at the different versions of Cozy's RAK singles I had 
from around the world. Frank had never seen most of them. They all laughed 
at South Africa's "Dance With The Drums".

Dave and Denny were really friendly. Frank is a real character - can't keep 
still for a second. Great guy.
Had a nice chat with drummer Russell Gilbrook. Another great guy - fits in 
really well. Apparently he was meant to do the Tony Iommi solo album but they 
chose drummers who were already out in LA.

A small but appreciative crowd, the gig had been advertised to both Procul 
Harum and Uriah Heep fans.

Tracks like "I Believe In You" and "Hotlips" were really heavy, storming, 
brilliant. Russell fired away on all cylinders like Cozy would have done. 
Frank was mad on stage. After 2 tracks his lyric sheets were spread around 
and covered in footprints. Comments like "Here's a song I don't know - 2 
rehearsals in 26 years".

Several tracks from the Bedlam album, plus some power trio stuff, including 
"Crossroads".

Both Denny and Dave had solo spots. Dave's a great guitarist, some good 
solos and his solo song/joke - I think the Ball Brothers had better relay 
that one.

Denny made a bass solo (5-string bass) out of Fleetwood Mac's "Oh Well".

For the encore - some rock'n'roll stuff, "Johnny B. Goode", again "I Believe 
In You" and the track of the day - "Bob The Builder"

So - thanks Denny, Dave, Frank and Russell.

And Neil - nice to meet you there - shame Don couldn't make it.

Next Bedlam gig - we'll have to try to get more people there. It is well 
worth travelling to.

Cheers
Joe Geesin

WOLFIE WITCHER AND HIS BREW
Saturday 30th December 2000
Arsenal Football Club Pre-Match gig

WOLFIE WITCHER AND HIS BREW
Saturday 27th January 2001
Concert for Eurostar
Waterloo
London

WOLFIE WITCHER AND HIS BREW
Saturday February 3rd 2001
Colchester
Essex
Contact Wolfie here
---

CHECK THIS OUT!
A while ago my dad sang back up vocals at the Sydney Football Stadium for Barbra Streisand, and was part of the vocal section which will be heard on a new Streisand CD!
He sang with the Sydney Orchestra Chorus during the grand opening of the Sydney Olympics back in September.
Busy chap my dad! He's just completed a voice-over for a video, and continues to present a show on the classical station 2MBS FM.


If you want to, you can sign my Guestbook


View My Guestbook
Sign My Guestbook


Some Links!

Bass players stuff

Chris Larkin - The man who made my bass guitars

My Page at The Musician's Olympus

My Football Team!

Brother Dave Ball at the Procol Harum site

John Henry Enterprises

Sensible Music Ltd

Links and Info on Ken Hensley and Uriah Heep

Welcome to the Music of Cozy Powell